Snow White's Rescue
"Happy Birthday!", ©Porzellanikon, Photo: jahreiss. kommunikation foto film, Hohenberg a. d. Eger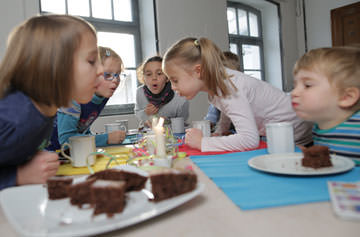 Once upon a time… That's how most of the fairy tales we know begin – "Snow White and the Seven Dwarfs" is no exception. The story of the young princess who was more beautiful than her vain stepmother, how she fled into the woods to the seven dwarfs, how she was poisoned and then saved by the Prince.
At the beginning the story is read aloud to you, but Snow White has disappeared somewhere in the museum. The only clues to her are seven dwarf hats that point the way. Follow the hats to find Snow White and save her from the evil Queen. After this adventurous journey you can celebrate your birthday with hot cocoa and cake and decorate porcelain that you can take home with you after the party.

Location: Porzellanikon Selb
Age: from 4 years
Duration: 2 hours
Group size: max. 10 children larger groups on request
Programme: Fairy tales and porcelain painting
Package price: €69.00

Registration: at least two weeks in advance by calling +49 9287 91800-0 or sending an email to museumspaedagogik(at)porzellanikon.org
Please take note of our guidelines for children's birthdays.