"Porzblitz" and Old Saucers – Porcelain Pirates on a Treasure Hunt
Oh! "Real" gold?! ©Porzellanikon, Photo: jahreiss. kommunikation foto film, Hohenberg a. d. Eger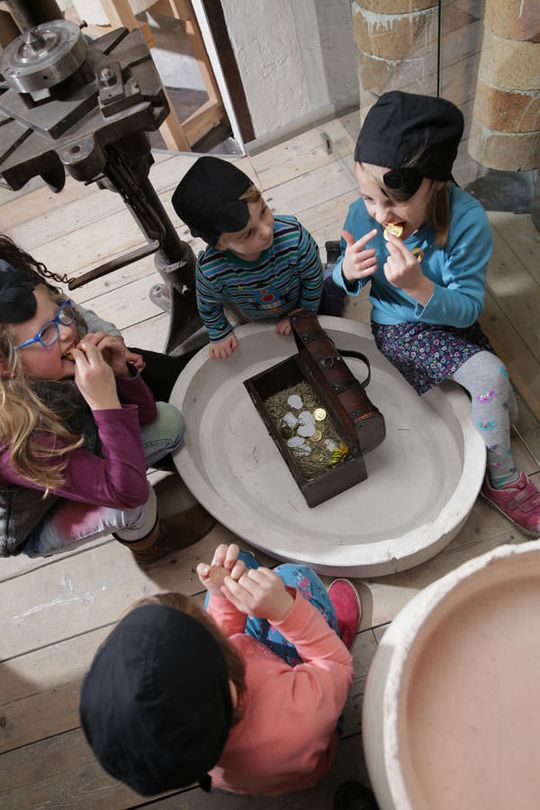 Legend has it that a treasure was hidden many years ago here in the museum. The treasure belonged to the first owner of the factory, Jacob Zeidler – a very, very rich man.
He was so rich that he was afraid someone would steal the treasure from him. So he hid it in his porcelain factory. However, while searching for the perfect spot to hide it, he lost his good and loyal friend, Eyepatch Luis. Jacob still haunts the museum today, looking for his friend. It's said that Jacob would give away his treasure if he could find his good friend Eyepatch Luis again. The only clue to his treasure and good friend Eyepatch Luis is part of a treasure map. But neither the treasure nor Eyepatch Luis have been found to this day. Can this treasure be discovered with the help of children?
Location: Porzellanikon Selb
Age: from 8 years
Duration: 2.5 hours
Group size: max. 10 children larger groups on reques
Package price: €69
Registration: at least two weeks in advance by calling +49 9287 91800-0 or sending an email to museumspaedagogik@porzellanikon.org
Please take note of our guidelines for children's birthdays.