Porzellanikon for Families
Our museum backpack, ©Porzellanikon, Photo: Florian Miedl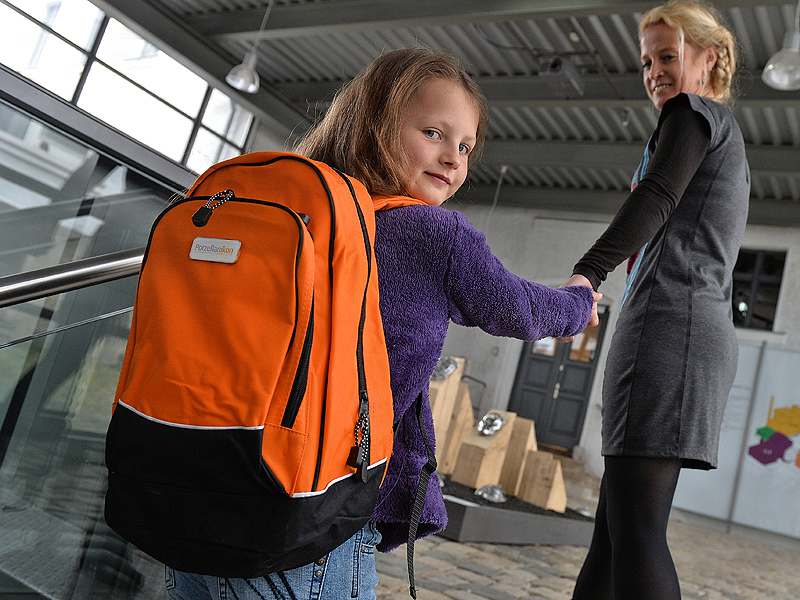 Porzellanikon offers exciting family programs for all those who are curious, hungry for experience and eager to discover.
Family afternoons (maximum duration 2.5 hours) Every third Sunday of the month the family afternoon starts at 14:30! There is always an exciting guided tour through a special or permanent exhibition followed by a creative programme - in line with the motto of the respective family afternoon. Young and old can get creative! You can find the current dates in our event flyer. On a discovery tour with a museum backpackFor spontaneous holiday visitors, weekend getaways or families on short notice, Porzellanikon offers the museum backpack. With the research sheets it contains, with experimental and search tasks and various materials, it helps to interactively experience the department of porcelain production and facilitates understanding of the manufacturing processes. The museum rucksack invites you to touch and listen closely and complements the visit to the museum in a child-friendly manner. The museum rucksack can be borrowed free of charge from the museum ticket offices in Hohenberg an der Eger and Selb.
Festivals and events Throughout the year we organize festivals where families are always welcome: The annual broom-burning to drive out the cold winter, the May Festival in the factory on May 1, the International Museum Day, the Museum Festival in Hohenberg on the Eger and the Open Monument Day are just some of the many opportunities to visit our house.
Current events can be found here.
Individual guided tours (with advance reservation):
For larger family groups, we offer individual, interactive tours where adults and children get their money's worth. We will take you on a personalized and thematically tailored tour of our museum.

Duration: 60-90 minutes
Group size: up to a maximum of 20 people
Cost: 29 € per group, 39 € per guided tour (plus museum admission)


Creative program (with advance reservation):
We are also happy to offer family groups the opportunity to get creative themselves. Round off a visit to the museum with one of the creative programs that you can book at our Creative Factory.
You can choose from the following offers:

Porcelain painting
Porcelain modeling
Designing lanterns

Duration: 60-90 minutes
Group size: up to ma. 20 people
Cost: Material costs 3 € children *reduced; 5 € adults; plus museum entrance fee.
For questions and bookings, please contact our museum education department at besuchercenter(a)porzellanikon.org.