In search of the Selblinge
A "Selbling" in the casting mould, ©Porzellanikon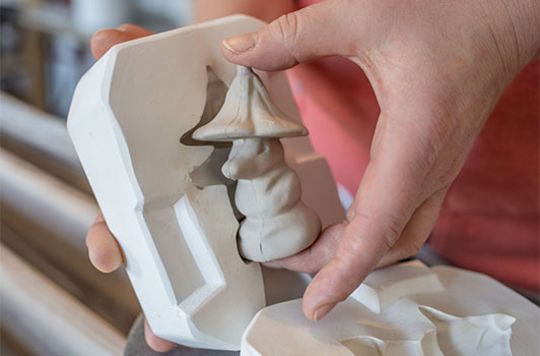 Who hasn't met our Selflinge yet? The good-natured porcelain goblins romp around everywhere in Selb and, of course, also in the Porzellanikon! We go on a discovery tour with them and take a close look at where our porcelain actually comes from. We encounter white dust, grey pancake batter and ovens so big that a whole group of children can fit into them! Afterwards, everyone is allowed to become a porcelain maker and to cast and paint their own little Selbling.
Location: Porzellanikon Selb
Age: from 6 years
Duration: 2 hours
Group size: max. 10 children larger groups on request
Programme: porcelain casting and porcelain painting
Package price: 69,00 €
Registration: at least two weeks in advance via +49 9287 91800-0 or sending an email to museumspaedagogik(at)porzellanikon.org
Please take note of our guidelines for children's birthdays.