Rumpelstiltskin and his secrets
Painting Rumpelstiltskin Caps, ©Porzellanikon, Foto: jahreiss. kommunikation foto film, Hohenberg a. d. Eger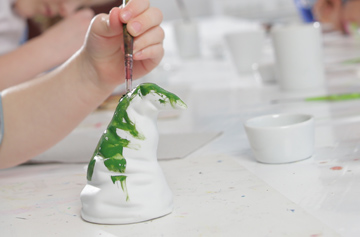 Everyone knows the story of the unhappy miller's daughter and the forest goblin Rumpelstiltskin.
After the fairy tale is read together in the Porzellanikon, the mission is to go to the museum to search for the sacks of gold that Rumpelstiltskin has hidden. Onyour yourney will additionally find White Gold and hear the story of poor Böttger, who was also supposed to make gold. At the end everyone can paint a Rumpelstiltskin cap and all little guests can enjoy cocoa and cake.
Location: Porzellanikon Selb
Age: from 4 years
Duration: 2 hours
Group size: max. 10 children larger groups on request
Programme: fairy tales, museum tour and for example porcelain painting
Package Price: 69,00 €
Registration: At least two weeks in advance via +49 9287 91800-0 or besuchercenter(at)porzellanikon.org
Please take note of our guidelines for children's birthdays.