Cultural History of Porcelain
IN GERMAN-SPEAKING COUNTRIES FROM THE
18TH CENTURY UNTIL 1989
Have you always wanted to see dishes from which people were eating at the time of August the Strong? Do you recognize your grandmother's holiday service? Do you remember how long it took you to save up for that one particular vase, which was then broken at Christmas?

At Porzellanikon - State Museum of Porcelain in Hohenberg an der Eger you will see many new things, but you will also remember many details of your own living and dining culture. What has been produced in German-speaking countries since Johann Friedrich Böttger and Ehrenfried Walther von Tschirnhaus successfully reinvented porcelain in 1708 - for the first time in Europe: The Porzellanikon shows it.
Staging of a laid table in the style of the 1920s, ©Porzellanikon, Photo: Foto: jahreiss. kommunikation foto film, Hohenberg a. d. Eger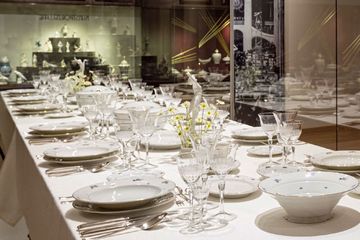 Collectors' deck; Unterweißbach, 1950s, sprayed fond, gold painting; Porzellanikon Inv. No. 21899/06, ©Porzellanikon, Photo: Foto: jahreiss. kommunikation foto film, Hohenberg a. d. Eger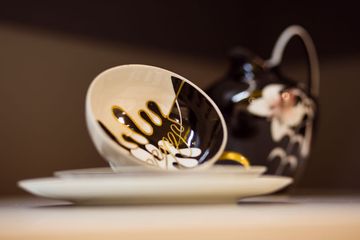 Studio of the artist Bjørn Wiinblad, ©Porzellanikon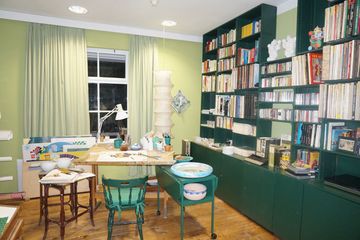 Attractive stagings, large pictures using contemporary models as well as audiovisual media and interactive media stations bring porcelain and the prevailing attitude towards time and life very vividly closer to the visitors.

Highlights of the permanent exhibition are porcelains from the 18th century, whose value and significance in the culture of representation and dining are the subject of discussion. An extensive collection of portrait cups from the 18th, 19th and 20th centuries depict important historical figures. In the subject area of trade fairs and exhibitions, among other things, objects tell their exciting story. The polar bears from various manufactories presented on a long base are an example of the closeness to nature that was striven for in the Art Nouveau period. Media stations provide visitors with information on the history, product range and brands of the more than 200 porcelain manufacturers in Germany around 1922. In the area of the Golden Twenties, a billboard and several display window designs illustrate the importance of advertising and the new sense of time. A set table and extraordinary porcelain take the visitor back to this time. An advertising film, a display window from this period, and porcelain in a variety of shapes and colours take visitors back to the time of the economic miracle. A flower arrangement made of porcelain as well as restaurant crockery from the Palast der Republik, the State and Culture Palace of the former GDR, are shown in a staging for the 70s.

The "Cabinet of Specialities" offers something extraordinary. These include beard cups and the moon globe as well as porcelain for celebrities, aviation and shipping. The former Selber Atelier of the artist Bjørn Wiinblad is also on display.