Cultural History of Porcelain
IN GERMAN-SPEAKING COUNTRIES FROM THE
18TH CENTURY UNTIL 1989

FASCINATION OF THE BEAUTIFUL.
Whether young or old, collector or design aficionado, as a family or with a school class – the collection on display in permanent exhibitions at Porzellanikon Hohenberg an der Eger has a lot more to offer visitors than just beautiful pieces in display cases.
When Carolus Magnus Hutschenreuther founded Northeast Bavaria's first porcelain factory in Hohenberg an der Eger, he laid the foundation upon which the region would soon become the centre of Germany's porcelain industry after 1814. Porzellanikon in Hohenberg an der Eger was established in 1982 and found a home in a building with a rich tradition: the Director's Villa that once belonged to the family-owned company C. M. Hutschenreuther. In 1995, a modern extension made of glass and steel was added to this historical building, giving it 2,000 m² of additional floor space. Today, the museum shows some 10,000 exhibits, with an inventory of over 200,000 porcelain objects. The delightful museum gardens invite visitors to spend some moments of leisure in the shade of apple trees and rose arbours.
Journey through the history of porcelain
Haven't you always wanted to see the tableware from which people dined in the times of King August the Strong? Isn't that your grandmother's best dinner service on display? Remember how long you saved up for that special vase – the one that was knocked over on Christmas? You'll discover many new things at Porzellanikon – Staatliches Museum für Porzellan, but you will also be reminded of many details from your own tableware and home décor. If it is porcelain and was made in German-speaking Europe after 1708, when Johann Friedrich Böttger and Ehrenfried Walther von Tschirnhaus were the first in Europe to recreate the formula for porcelain, you will find it at Porzellanikon.
Inszenierung einer gedeckten Tafel im Stil der 1920er Jahre, Foto: Manfred Jahreiß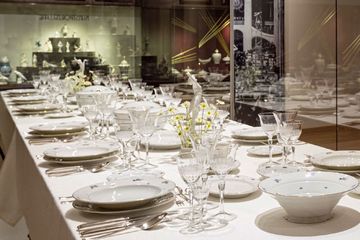 Sammelgedeck; Unterweißbach, 1950er Jahre, Spritzfond, Goldbemalung; Porzellanikon Inv. Nr. 21899/06, Foto: Manfred Jahreiß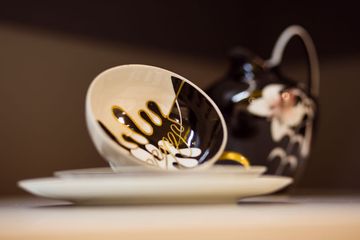 Atelier des Künstlers Bjørn Wiinblad, Foto: Porzellanikon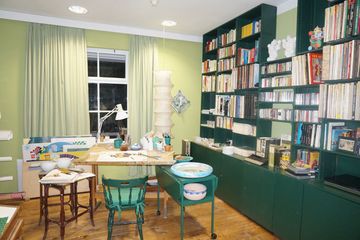 From the royal court to the front parlour
An attractive staging, large-format images using contemporary originals, audiovisual media and interactive media stations create interesting presentations of each prevailing period and way of life for visitors to enjoy in vivid detail.
Highlights of the permanent exhibition include porcelain objects of the 18th century and a discussion of their value and importance for representative and dining culture. An extensive collection of portrait cups of the early 19th and 20th century shows important people in history. Objects and other items tell their fascinating stories in the "Trade Fair and Exhibition" area. A showcase displays polar bears from the Art Nouveau period, artfully hand-crafted by different European manufactories. The animals are so natural and life-like, as if they would move about freely in nature. Media stations give visitors insight into the history, range of products and brands of the more than 200 porcelain manufacturers in Germany around the year 1922. Promotional ads and window displays in the "Roaring Twenties" area show the importance of advertising during this fun-loving period. A decorated dining table and magnificent porcelain objects take visitors back in time to this era. A promotional film, a display window with period decorations, and porcelain objects in all shapes, sizes and colours whisk you away to the Wirtschaftswunder ("economic miracle") of the 1950s and 1960s. A staging dedicated to the 1970s shows a floral arrangement made of porcelain as well as restaurant tableware from the Palace of the Republic, the former seat of the parliament of the German Democratic Republic (GDR) which also served various cultural purposes.
The "Cabinet of Peculiarities" ("Kabinett der Besonderheiten") presents unique exhibits such as moustache cups and the moon globe, porcelain for celebrities, aviation and shipping, or artist Björn Wiinblad's Rosenthal studio in Selb during his tenure there.