German-Czech traveling exhibition as a cross-border promotional measure for the special exhibition "Bohemian Porcelain - 'Baroque' Luxury for High Society"
Kleinkindergruppe auf Teller, Fischer & Mieg, Pirkenhammer, um 1900, Reliefgold, Fotoumdruckdekor, Dm. 24 cm, Porzellanikon Hohenberg, Inv. Nr. 12876/98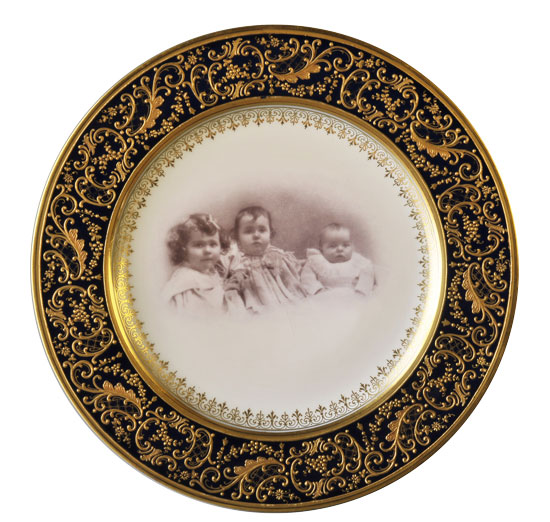 Project duration: April 1, 2021 - June 30, 2022
For the year 2023, Porzellanikon - State Museum of Porcelain is preparing the special exhibition "Bohemian Porcelain - 'Baroque' Luxury for High Society". It will showcase porcelain from Bohemia from its heyday in the 19th century at the Hohenberg a. d. Eger site. The special exhibition is designed as a cross-border project and will be a contribution of Porzellanikon within the framework of the "Bavarian-Czech Friendship Weeks Selb Asch 23".
As early as 2022, a small traveling exhibition at selected locations in Germany and the Czech Republic will draw attention to the international special exhibition in a promotionally effective manner. The aim of this joint marketing project with the Museum of West Bohemia in Pilsen is to use selected exhibits to give an initial impression of the variety of colors and shapes of Bohemian porcelain. It is intended to draw attention to the attractiveness of the subject via vividly told story(s) and thus to promote a visit to the special exhibition "Bohemian Porcelain" at Porzellanikon in 2023. Already from January/February 2022, the traveling exhibition will go on tour to several stops in the Czech Republic (Karlovy Vary and Pilsen districts) and Germany (Saxony, Thuringia, Upper Franconia, Upper Palatinate). At the same time, the traveling exhibition walks in the footsteps of the common porcelain tradition, especially in the regions of Upper Franconia and Bohemia. For both, porcelain meant the unifying unique selling point, which is thus brought back into the focus of public attention. The aim is to revive and consolidate the common porcelain tradition and thus strengthen the bond between the regions. The project revives and promotes common cultural, tourist and economic traditions.
The project is made possible by the support of