Rosenthal Department
Mention the name "Rosenthal" to anyone from as far away as Tokyo or New York and watch their eyes light up. The label is synonymous with luxury and the art of table setting. If that's not exciting enough: Since 2004, Porzellanikon has had a very own department dedicated to the company and design history of Rosenthal.
You find yourself surrounded by the legendary product range and a whole host of classical pieces from the firm's more than 125-year history. All this is found in the porcelain factory's old converted kiln house, a place where the world-renowned brand was produced before moving to the new Rosenthal am Rothbühl factory designed by Walter Gropius. Renowned artists and designers decorated and designed porcelain, glass, ceramic, metal and furniture for Rosenthal. Highlights of the exhibition – without question – are objects by Salvador Dalí, Otto Piene, Günther Uecker, Victor Vasarely and many more.
Creative works of a world-renowned brand
This department reveals the successful mix of art, design and lifestyle for which Rosenthal has been famous for decades. And only a selection of the creative works of designers and artists are shown here; there are 25,000 exhibits of Rosenthal history, which – thanks to the Oberfrankenstiftung – are among the museum's best. The imposing three-storey circular kiln forms the centre of the section of the building reconstructed after fire and decay. It is the only one of the six remaining kilns at Porzellanikon to be fully exposed, its inner section also forming part of the display area.


Blick in den Ausstellungsbereich Philipp Rosenthal sen. ©Porzellanikon, Foto: jahreiss. kommunikation foto film, Hohenberg a. d. Eger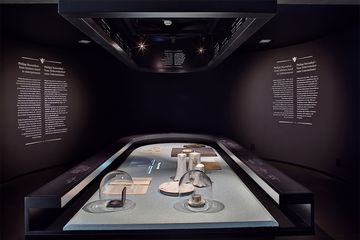 Blick in den Ausstellungsbereich Philip Rosenthal jun. ©Porzellanikon, Foto: jahreiss. kommunikation foto film, Hohenberg a. d. Eger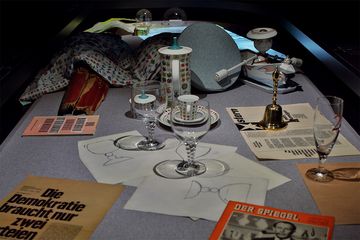 Rund 200 Serviceteile illustrieren die Fülle der Produktinnovationen ©Porzellanikon, Foto: jahreiss. kommunikation foto film, Hohenberg a. d. Eger