Rosenthal Department
In 2016, the exhibition area was re-staged in a modern and unusual way at its authentic location, the distillery of the Rosenthal factory in Selb-Plößberg, which was closed down in 1969. The path leads visitors through a "logo tunnel" into a 600 square metre open space with an impressive kiln.

The "Logo Tunnel" is decorated with a specially designed wallpaper featuring various Rosenthal floor brands from the last 125 years, which have changed over time. Two media stations, right at the beginning of the exhibition with numerous pictures, some of which have never been shown before, provide insights into the lives of Philipp sen. and Philip jun. in the juxtaposition. The wealth of their product innovations against the background of the changing table culture between the end of the 19th and the beginning of the 21st century are presented on unusually designed tables. Selected art porcelains, on the other hand, are to be discovered in specially designed archive cabinets. A detailed timeline with historical testimonials traces the eventful history of the company in Selb, Bavaria, from its foundation to the present day.

Another design highlight are the 44 windows. Colourful decorations on the glass panes radiate into the exhibition when the sun shines. The historic building is transformed into a kind of industrial cathedral.

The presentation draws on a unique fund of objects from the Rosenthal Product Archive, which thanks to the Upper Franconian Foundation is kept on permanent loan in the Porzellanikon, and the collection of the Porzellanikon. A museum guide with 152 pages is available to accompany the exhibition.
View into the exhibition area Philipp Rosenthal sen. ©Porzellanikon, Photo: jahreiss. kommunikation photo film, Hohenberg a. d. Eger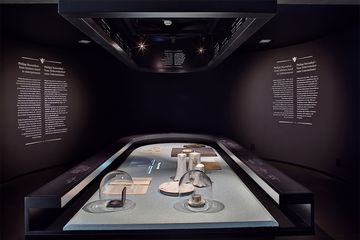 View of the exhibition area Philip Rosenthal junior ©Porzellanikon, Photo: jahreiss. kommunikation foto film, Hohenberg a. d. Eger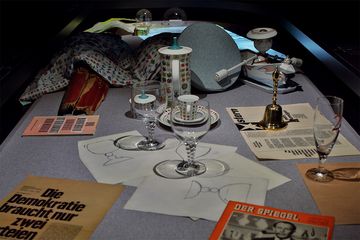 Around 200 service parts illustrate the wealth of product innovations ©Porzellanikon, Photo: jahreiss. kommunikation foto film, Hohenberg a. d. Eger